Do you take your Nissan car, truck or SUV in for routine  brake maintenance? Have your brakes been serviced within the last 10,000-15,000 miles? If you answered no to both of these questions, it may be time for  you to
schedule a service appointment
for a brake inspection.
Why Do I Need a Brake Inspection?
Brake inspections are a necessary part of vehicle ownership and should never be skipped or put off to a later date, even if your brakes seem to be working fine. Think of routine brake service like a dental exam--just because you aren't experiencing problems now doesn't mean something isn't brewing under the surface. It's always better to catch potential issues before they turn into something larger.
If your brakes are acting up, it's doubly important to pay a visit to our Nissan service center right away. One of our technicians will inspect every part and make recommended repairs right on the spot. Waiting only puts you and your vehicle at risk for more damage and a costly repair, not to mention a collision caused by faulty brakes.
How Can I Tell if My Brakes are Bad?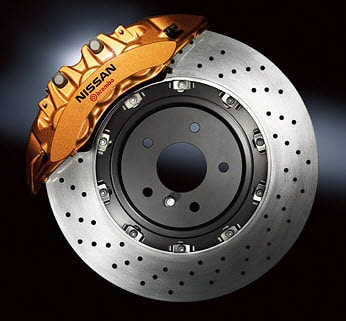 Brakes are a complex system made up of many different components. So, when you experience an odd noise or feeling when braking, it doesn't signify your brakes as a whole are bad. However, this doesn't mean it's safe to postpone service. When one part is bad, it can have adverse effects on other parts. Take brake pads for example--when your brake pads are worn down, they can start to wear grooves in the rotors, which just makes for a larger repair bill.
Brakes don't hesitate to signal drivers that they need service. If you experience any of the following, visit us as soon as possible:
A squishy, spongy or soft brake pedal
High-pitched or grinding noises when braking
Long brake times with extra pressure required to  stop
Vibrations coming from the brake pedal or wheel
A vehicle that jerks to the side when the brakes are applied
Reliable, Trusty Brake Service in the Phoenix Area
When you need Nissan brake repair or replacement, we are  here to help! At Pinnacle Nissan, our auto repair shop is staffed by leading Nissan-certified service technicians who are trained to perform a variety of brake maintenance items. Brake pad replacements, rotor resurfacing, brake fluid flushes, caliper replacements and brake line repairs are just a few of the services we handle!
Many people put off brake repair simply because of the price tag. At our Nissan dealership, we offer brake service coupons to help alleviate the costs and provide you with affordable pricing. Have questions about our services or pricing? Don't hesitate to give us a call or visit us in Scottsdale today.
Customer responsible for first $12 of Lyft ride, any remaining amount will be paid by Pinnacle Nissan. See dealer for details.