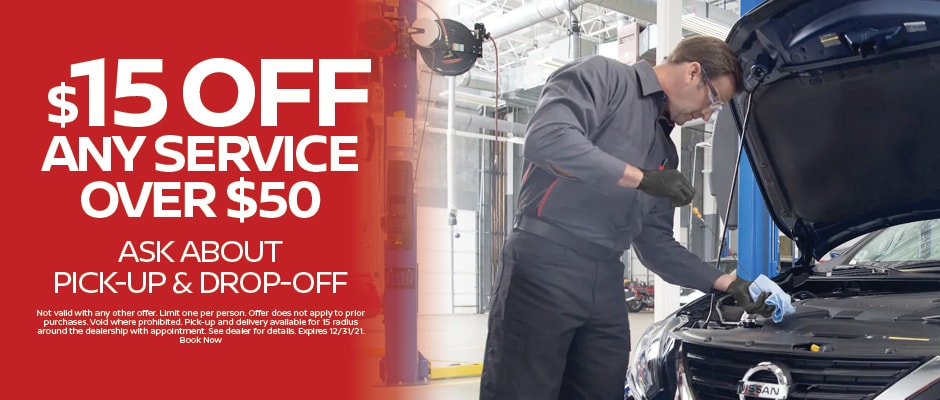 How Often Should I Service My Nissan?
The automaker's engineering practices as well as the quality of the parts used in your vehicle play a major role in the car's longevity. With the great reputation of Nissan vehicles, it makes sense that you would expect reliable performance from your Nissan in the years ahead. However, these are not the only factors that impact a vehicle's uptime and longevity. All vehicles today are sold with an owner's manual that includes recommended maintenance. Typically, the service recommendations are broken down into intervals based on the vehicle's mileage. This is because many automotive parts will wear out at a certain point, and suggested maintenance is designed to address that issue. Keep in mind that this is a general guide for vehicle maintenance, but you should always refer to the specific guidelines that your automaker provided in your owner's manual.
15,000-Mile Service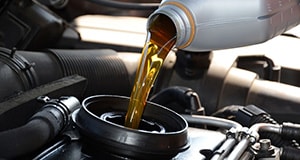 Before your car's odometer reaches the 15,000-mile mark, periodic oil changes and tire rotations may be the only maintenance needs. Tires should typically be rotated every 3,000 miles. Oil change requirements vary based on the type of oil that you use. While the previous guideline for most vehicles was to change oil every 3,000 miles, the current recommendation for most vehicles is to change the oil every 5,000 to 7,000 miles. When the odometer reaches 15,000 miles, the auto service center should replace the oil and filters as needed. Tires should be rotated if this has not been completed recently. In addition, the braking and cooling system should be inspected and serviced as needed. These systems may show wear at this point and should receive attention to keep them operating well.
30,000-Mile Service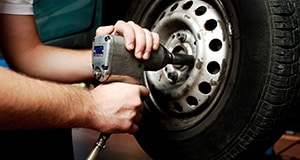 A vehicle's 30,000-mile service is more in-depth than the previous major service, and you can usually expect it to be slightly more expensive than the previous major service. Typical services include the replacement of the transmission fluid and fuel filter. In addition, all tasks listed for the 15,000-mile service should be completed again at this time.
60,000-Mile Service
Your automaker may recommend a 45,000-mile service, and this may include any services from the 30,000-mile service that were not completed previously as well as all services recommended at the 15,000-mile point. At 60,000 miles, all hoses, valves and belts typically require replacement. Spark plugs may also need to be replaced at this point if they have not yet been replaced, but long-life spark plugs may remain in place. The previous automotive services that have been listed for the 15,000-mile and 30,000-mile services may also need to be completed at this time.
90,000-Mile Service
Some automakers recommend service at 90,000 miles, and others recommend service at 100,000 miles. Regardless of the exact mileage that is recommended for your vehicle, your automaker may suggest that this is the time to replace long-life spark plugs as well as orange coolant. Keep in mind that all other services that have been completed at each of the previous milestones may also need to be completed again at this point. Once your vehicle reaches this high-mileage point, regular maintenance may be required or needed more frequently so that worn out parts can be identified and repaired before they become problematic for the vehicle owner. Remember to refer to your vehicle's owner's manual or inquire with our trusted auto service team at Pinnacle Nissan for more information about the types of services that are recommended or needed for your car at this time. Call ahead to make an appointment for your vehicle's services for faster results when you arrive.
For more details about your Nissan Sentra, Altima, Rogue or Pathfinder maintenance schedule, as well as any other model in the lineup, please consult your owner's manual or contact Pinnacle Nissan for further information.