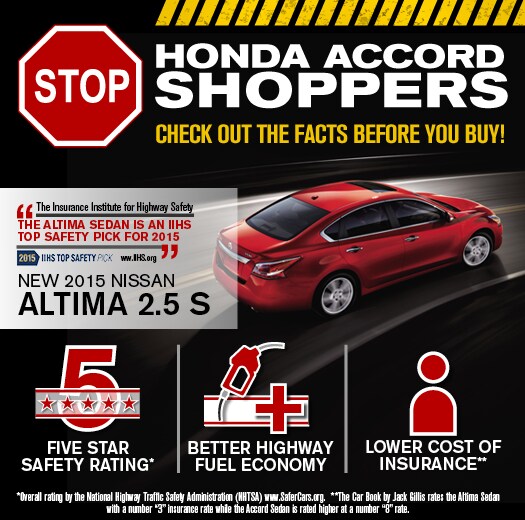 Before you decide to purchase your luxury sedan, you should do some research into two of the top competitors. These are the Nissan Altima and the Honda Accord. For simplicity purposes, we're going to be comparing both models for the year 2015. From their Engine to their interior specifications, we're going to go over it all below.
Engine/Transmission
When it comes to the engines placed inside these competitors, there's not a big difference. The Altima sports a 2.5 liter, four-cylinder engine. The Accord sports a 2.4 liter, four-cylinder engine. For the transmission, the Altima has Xtronic CVT and the Accord has CVT.
Horsepower/Torque
Now, we get down to the numbers that many car owners care about, the horsepower and torque. The Nissan Altima has 182 horsepower at 6,000 RPM and 180 torque at 4,000 RPM. The Honda Accord has 186 horsepower at 6,400 RPM and 181 torque at 3,900 RPM.
Miles Per Gallon
As fuel costs continue to increase, the miles per gallon that a new vehicle gets becomes a big factor in the decision on which one to purchase. The Nissan Altima gets 27 city MPG and 38 highway MPG*. The Honda Accord gets the same city MPG at 27 and sports a slightly lower highway MPG at 36. The Altima allows for an 18-gallon tank of fuel while the Accord is slightly less at 17 gallons.
Vehicle Dimensions
The curb weight of these vehicles is fairly close. The Altima is notched at 3,177 pounds while the Accord is slightly heavier at 3,336 pounds. Looking at the exterior of the vehicle, the Altima is 191.5 inches long while the Accord is 191.4 inches long. When it comes to turning, the Altima has a slightly lower turning radius of 18.1 feet as compared to 19 feet of the Accord.
The inside vehicle dimensions are another important purchase consideration. The Altima sports slightly more legroom at 45 inches compared to 42.5 inches of the Accord. When it comes to the headroom, the Altima beats the Accord at 40 inches to 37.6 inches. Clearly, the 2015 Nissan Altima allows for more interior space than the 2015 Honda Accord.
Deciding what sedan you want to purchase starts with understanding just what you'll be getting. As you can see, there are many differences between the 2015 Nissan Altima and the 2015 Honda Accord in which the Altima ultimately wins. Be sure to stop by our dealership today to let one of our friendly staff members assist you with your vehicle purchase.
* Based on 2015 EPA mileage ratings. Use for comparison purposes only. Your mileage will vary depending on how you drive and maintain your vehicle.