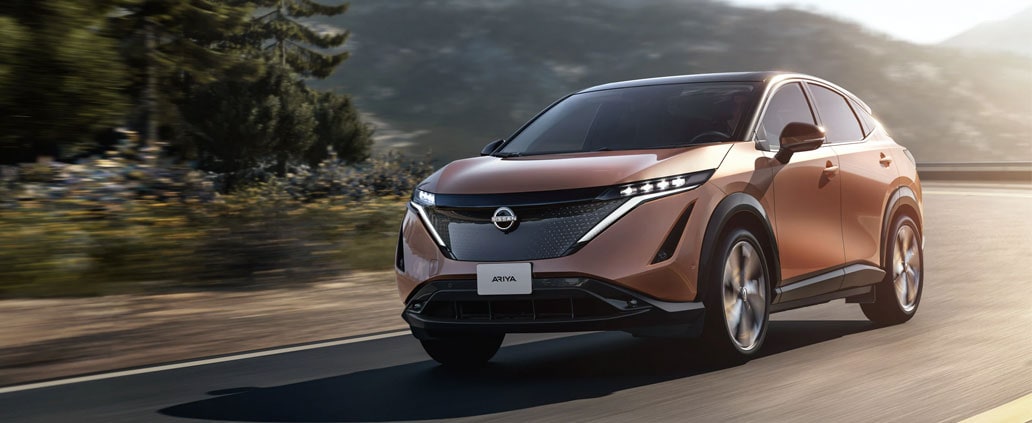 The 2022 Nissan Ariya is an electric crossover SUV that's equipped with industry-leading technologies. Featuring five seats, this all-new model will also have several autonomous driving functions.
When equipped with a two-wheel drive, the Ariya's battery pack stores up to 65 kWh of electrical energy. If you get an all-wheel drive, you have access to a battery that stores a maximum of 90 kWh. Running on the e-4ORCE technology, the signature AWD system generates up to 389 net horsepower at threshold levels. This patented drivetrain can send all available power to the front or rear wheels. Twin electric motors control the highly dynamic AWD system on this efficient Nissan crossover SUV. Regenerative braking is also integrated into the electric powertrain. Having an aerodynamic profile, the Ariya model is expected to accelerate from 0 to 60 MPH in only 5.1 seconds. This all-new electric Nissan model also boasts state-of-the-art technologies inside the cockpit, such as a 12.3-inch center touch screen with next-generation software. A 12.3-inch instrument cluster flanks the signature infotainment system with a custom menu. All passengers can directly interact with the NissanConnect platform, which utilizes advanced voice recognition. Amazon Alexa and Google Assistant will also be available in the infotainment hub. Of course, you can expect to have access to the latest versions of Android Auto and Apple CarPlay. Wireless Bluetooth and 4G Wi-Fi will provide lots of additional connection options for any occupant with a smartphone. A head-up display with a color interface provides additional visual utility inside the futuristic-looking cockpit. The 2022 Ariya model also has premium amenities that optimize comfort and convenience, like the Zero Gravity front seats. Taking lessons from the aerospace industry, Nissan's engineers designed these ergonomic seats wrapped in real leather upholstery. This electric Nissan crossover SUV sets high standards in autonomous driving on the highway.
ProPILOT technology is designed to respond to the environment in real-time. For instance, the ProPILOT Assist 2.0 function offers a hands-free cruise on the road. Activated by an electronic button, the ProPILOT Park function controls the steering and braking, so you can easily back up into a parking spot. You may receive additional assistance from the Rear Automatic Emergency Braking, which protects the rear bumper from damage. The Intelligent Around View Monitor enhances your abilities to handle the vehicle in reverse.
Contact our Nissan dealership to receive updates on the 2022 Ariya crossover SUV. We're excited to talk about this all-new electric crossover SUV.