The 2012 Nissan Sentra from Pinnacle Nissan is the perfect example of committed automotive craftsmanship built to fit the needs of Arizona Nissan buyers. Pinnacle Nissan is fired up to present the 4-door 2012 Nissan Sentra Compact Sedan. As your North Scottsdale Nissan dealer, we hope you find our 2012 Nissan Sentra reviews and research materials useful in finding the elements, specifications and information you've been hunting for. View Pinnacle Nissan's new lineup of 2012 Nissan Sentra Compact Sedans.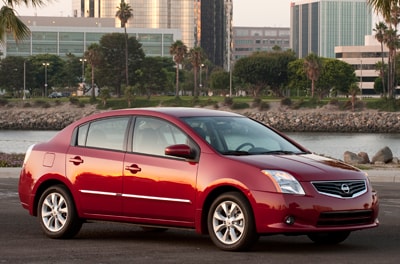 Pinnacle Nissan presents the 2012 Nissan Sentra Compact Sedan
Buyers find that when they compare the 2012 Nissan Sentra to other makes like the Chevrolet Cruze, Toyota Corolla, Hyundai Elantra, Ford Focus and Honda Civic, the Nissan Sentra sets itself apart as the most fun to drive. Check out our Quick List spec table below to see why!
The 2012 Nissan Sentra has an starting MSRP of $16,060
The 2012 Nissan Sentra gets 24 city / 31 highway MPG
The 2012 Nissan Sentra goes from 0-60 MPH in 8.5 seconds
The 2012 Nissan Sentra features 42.4 inches of legroom up front and 34.5 inches in back
The 2012 Nissan Sentra features 40.6 inches of headroom in front and 37.3 inches in back
The 2012 Nissan Sentra is 179.8 inches long, 70.5 inches wide and is 59.5 inches tall
The 2012 Nissan Sentra weighs 2862 pounds and has a turning radius of 35.4 feet
We know you'll fall for the Nissan Sentra - visit Pinnacle Nissan in North Scottsdale today!
The 2012 Nissan Sentra from Pinnacle Nissan is among the nation's top ranking affordable small cars. It is reliable, safe and ranks high when it comes to fuel economy. Nissan Sentra reviews also state that for a compact car, it provides a massive amount of room and is substantially comfortable. The Sentra's sophisticated design is shown off in attractive paint colors like Red Alert, Magnetic Gray, Espresso Black, Blue Onyx and Aspen White. North Scottsdale Nissan shoppers can also select from six well-equipped trims, which include the Sentra 2.0, Sentra 2.0 SR, Sentra 2.0 S, Sentra 2.0 SL, Sentra SE-R and Sentra SE-R Spec V. With a low starting MSRP of $16,060, this zippy compact vehicle is a terrific choice over the Toyota Corolla, Chevrolet Cruze, Hyundai Elantra, Ford Focus and Honda Civic. Scottsdale car shoppers are invited down to Pinnacle Nissan to check out our large selection of new and used Sentra sedans today!
The Sentra has quickly become one of the most popular Nissan cars since its debut in 1982 as the Datsun. The popular compact sedan has come a long way since then! It received a dramatic facelift in 2007 and was proudly re-introduced at the North American International Auto Show to rave reviews. Following this, the Sentra continued on a path of positive change. Just a few years later, the 2010 Nissan Sentra received revised headlights, an updated lower fascia and a new grill inspired by its big brother, the Nissan Altima. The new 2012 Nissan Sentra features fun red back-lighting behind the knobs and speedometer, as well as an audio system that includes a high-tech CD player and USB integration on select models. Attractive taillights dress up the back along with chrome trim on the side moldings and trunk. These are just a few of the Sentra's standout features. Visit Pinnacle Nissan to see one of America's favorite small sedans today and take a test drive! When you stop by our North Scottsdale Nissan dealership, you will also find an incredible selection of used cars for sale, including the 2010 and 2011 Nissan Sentra.
The 2012 Nissan Sentra's interior features make traveling with a large bunch easy and convenient. Features like satellite radio, Bluetooth, an iPod interface and a CD/MP3 audio system provide fun and entertainment for the whole gang. In addition, North Scottsdale Nissan Sentra owners will love features like cruise control, keyless ignition and entry, power mirrors, heated front seats and foglamps. Call or stop by Pinnacle Nissan to find out more about each trim's unique set of features.
Also come experience the Sentra's smooth and charismatic ride. The innovative 2012 Sentra looks as good as it performs. It stands out as a solid choice due to its performance variants, low cost upkeep and high fuel efficiency. All trims include a Timing Control System, Nissan Direct Ignition System, Iridium-tipped spark plugs, an electronic drive-by-wire throttle, front-engine/front-wheel drive, a Four-Wheel Anti-Lock Braking System (ABS) and Electronic Brake Force Distribution (EBD). Contact Pinnacle Nissan to learn more about these advanced features. Along with this long list of complex under-the-hood technology, suspension and steering are enhanced with a front-end independent strut suspension and a rear-end torsion beam axle with an integrated rear stabilizer bar. To further enhance vehicle stability and strength, all trims use ripple-control shock absorbers and speed-sensitive electric steering.
North Scottsdale residents are invited to come test drive the Sentra today. In Nissan Sentra reviews, you'll keep hearing about this compact sedan's energetic performance. All Sentra 2.0 models, including the S, SR and SL, are equipped with a 2.0-liter four-cylinder engine that pumps out 140 horsepower and 147 lb-ft of torque. Sentra SE-R models get a 2.5-liter inline four-cylinder engine that generates 177 horsepower and 172 lb-ft of torque. The base S model comes standard with a six-speed manual transmission. The 2.0 S, 2.0 SR, 2.0 SL and SE-R utilize an Xtronic Continuously Variable Transmission (CVT), which is optional on the S trim. Finally, the ultra high-performance SE-R Spec V comes with a close-ratio six-speed manual.
The Sentra's crisp handling and refined performance have made it a favorite amongst North Scottsdale car shoppers. Visit Pinnacle Nissan to browse our inventory of new and used Sentra sedans today. Along with a full lineup of 2012 Nissan Sentras, you will also find many late-model-year used vehicles like the 2011 Nissan Sentra and 2010 Sentra.
Cruising in a Nissan Sentra from Pinnacle Nissan makes Arizona driving comfortable, safe and fun - all at the same time! Here's why:
Pinnacle Nissan has a huge assortment of 2012 Nissan Sentra Compact Sedans with standard Nissan safety features like anti-lock brakes, traction control, driver airbags, passenger airbags, side airbags and more, making the 2012 Sentra an NHTSA and IIHS favorite. In addition to these safety features, the 2012 Nissan Sentra can amply seat up to 5 passengers. Trunk space with Nissan is never a worry; the Sentra can hold up to 13.1 cubic feet of your belongings, ensuring that your next vacation is hassle-free. To top it all off, the 2012 Nissan Sentra includes an impressive list of comfort and convenience highlights like powered windows, mirrors, doors and locks, climate control, AC and optional hands-free phone and navigation systems. Take a test drive at Pinnacle Nissan today and experience the Nissan Sentra for yourself.
The Nissan manufacturer's warranty covers the Sentra for manufacturing defects and has a 3 years / 36,000 miles Nissan warranty. Nissan has worked for years to minimize its environmental impact; as a result, the Sentra's carbon footprint is minimal. Not surprisingly, with all of the Sentra's advantages, this quality Nissan Compact Sedan retains a high percentage of its value at 3 years and 36,000 miles, which makes the Nissan Sentra a great used buy! When seeking a safe, stylish and economical Compact Sedan, Scottsdale Nissan buyers should head to Pinnacle Nissan, located at 7601 E Frank Lloyd Wright Blvd in Scottsdale, AZ
Nissan Sentra service information for North Scottsdale
Nissan Sentra lessees and owners in North Scottsdale have discovered that Pinnacle Nissan at 7601 E Frank Lloyd Wright Blvd in Scottsdale is the very best choice for Sentra warranty work, regular maintenance, inspections and mechanical repairs. At Pinnacle Nissan, Certified Nissan Technicians trained in the very latest corrective and diagnostic techniques work for one thing - your complete satisfaction. Whether it's time for your Nissan to have an oil change, brake pad replacement, or simply undergo Sentra Scheduled Maintenance, Pinnacle Nissan is your first choice. Our Certified Nissan Mechanics also complete specialty jobs and repairs. Pinnacle Nissan is the smartest choice in North Scottsdale for quick, accommodating and professional Nissan Service of all kinds.
If you'd like to make an appointment to have your Sentra serviced, click the link or just give us a call. Stop by soon!