The 2012 Nissan Rogue from Pinnacle Nissan is the epitome of ardent automotive craftsmanship built to fit the needs of Arizona Nissan buyers. Pinnacle Nissan is excited to present the 4-door 2012 Nissan Rogue Midsize SUV. As your North Scottsdale Nissan dealer, we hope you find our 2012 Nissan Rogue reviews and research materials valuable in finding the accessories, specifications and information you've been looking for. View Pinnacle Nissan's new lineup of 2012 Nissan Rogue Midsize SUVs.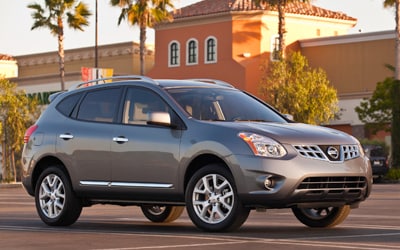 Pinnacle Nissan presents the 2012 Nissan Rogue Midsize SUV
Shoppers find that when they compare the 2012 Nissan Rogue to other makes like the Honda CRV, Toyota RAV4 and Hyundai Tucson, the Nissan Rogue emerges as the most fun to drive. Look at our Quick List table below to see why!
The 2012 Nissan Rogue has an starting MSRP of $21,530
The 2012 Nissan Rogue gets 22 city / 28 highway MPG
The 2012 Nissan Rogue goes from 0-60 MPH in 8.1 seconds
The 2012 Nissan Rogue features 42.5 inches of legroom up front and 35.3 inches in back
The 2012 Nissan Rogue features 40.4 inches of headroom in front and 38.3 inches in back
The 2012 Nissan Rogue is 183.3 inches long, 70.9 inches wide and is 65.3 inches tall
The 2012 Nissan Rogue weighs 3276 pounds and has a turning radius of 37.4 feet
We know you'll love the Nissan Rogue - visit Pinnacle Nissan in North Scottsdale today!
Filling the gulf that lies between luxury SUVs and their less expensive everyday counterparts is a constant thorn in the side of automakers, and for many, the task is analogous to drawing water from a stone. This year, Nissan decided to reaffirm their motto, "Innovation for All" with the new 2012 Nissan Rogue SUV. Affordably priced at an entry-level MSRP of $21,530, the 2012 Nissan Rogue goes head-to-head with the Honda CRV, Toyota RAV4 and Hyundai Tucson, taking the cake as the most luxurious and affordable SUV in North Scottsdale. The Nissan Rouge features several new high-end updates for 2012, including the Around View Monitor feature, which uses four small cameras to project a 360 degree view of the SUV's surroundings on an interior touchscreen monitor. The 2012 Rogue is the first non-luxury SUV in the U.S. to offer this feature; paired with the Rogue's impeccably modern exterior and fuel efficient Nissan Xtronic CVT, the Nissan Rouge is the perfect choice for anyone looking to get a piece of luxury without the usual hefty price tag. Pinnacle Nissan is proud to offer the affordable 2012 Nissan Rogue crossover SUV - it's not just for some, it's innovation for all.
While this compact SUV's namesake is typically defined as a "scoundrel" or "vagabond," the folks at Nissan were clearly leaning toward a more colloquial definition of the word, alluding to its independence and singularity in a field of SUVs crowded with generic copy after generic copy. In 2007, Nissan introduced this "vagabond" to the world, calling it the Rogue. The first iteration to hit the market was the 2008 Nissan Rogue, replacing the capable but aging Nissan X-Trail. Touted as a more-refined crossover SUV, the Rogue did not disappoint. Along with its counterpart, the Nissan Murano, the Rogue gave consumers an upscale compact SUV at a price that didn't decimate their checking accounts. In addition to Pinnacle Nissan's collection of new 2012 models, we also carry a variety of used Nissan Rogue SUVs as well. Visit us today and check out our entire lineup of new and used Nissan cars, trucks and SUVs for North Scottsdale shoppers.
The Rogue comes in two trim levels for 2012: the Nissan Rogue S and SV. Three package options are available, including a Premium Package, SL Package and an all-new Special Edition Package. Pick up a Nissan Rogue in North Scottsdale in eye-catching colors like Super Black, Platinum Graphite Metallic, Cayenne Red and Pearl White, just to name a few. The Nissan Rogue reviews are in - get yours at Pinnacle Nissan today!
The 2011 Nissan Rogue utilized a 2.5 liter 4-cylinder engine that delivered 170 horsepower and 175 lb. - ft. of torque paired to a Nissan Xtronic CVT transmission that improved overall fuel economy while maintaining responsive acceleration. The 2012 Rogue keeps last year's successful engine and adds to the CVT transmission with an all-new Sport Mode. With this addition, North Scottsdale Nissan drivers can expect even quicker, more responsive handling when it's needed most. Nissan Rogue reviews like this one from Popular Mechanics confirms this sentiment: "Overall, the Rogue is a fun, sporty and cool-looking compact crossover." As your local Nissan dealer in North Scottsdale, we couldn't agree more! Visit Pinnacle Nissan and arrange a test drive in a new 2012 Nissan Rogue, available in FWD and AWD configurations.
The new 2012 Nissan Rogue S and SV come equipped with standard and optional features like: 16 or 17-inch steel wheels, powered mirrors, doors and windows, leather seating, a rear 60/40 spilt-fold bench seat, various cargo and storage compartments, air conditioning, heated front seats and outside mirrors, Nissan Intelligent Key, a Bose developed 7-speaker audio system, Nissan floor mats, a powered glass moonroof, automatic headlights, Nissan's Around View Monitor and much more! For a complete listing of 2012 Nissan Rogue accessories and features, stop by and ask to speak with one of our knowledgeable sales representatives. Visit a North Scottsdale Nissan dealership you can trust - Pinnacle Nissan.
Owning a Nissan Rogue from Pinnacle Nissan makes Arizona driving easy, safe and fun - all at the same time! Here's why:
Pinnacle Nissan has a gigantic inventory of 2012 Nissan Rogue Midsize SUVs with standard Nissan safety features like anti-lock brakes, traction control, driver airbags, passenger airbags, side airbags and more, making the 2012 Rogue an NHTSA and IIHS favorite. In addition to these safety features, the 2012 Nissan Rogue can amply seat up to 5 passengers. Trunk space with Nissan is never a worry; the Rogue can hold up to 28.9 cubic feet of your stuff, ensuring that your next journey is hassle-free. To top it all off, the 2012 Nissan Rogue includes an incredible list of comfort and convenience amenities like powered windows, mirrors, doors and locks, climate control, AC and optional hands-free phone and navigation systems. Take a test drive at Pinnacle Nissan today and experience the Nissan Rogue for yourself.
The Nissan manufacturer's warranty covers the Rogue for manufacturing defects and has a 3 years / 36,000 miles Nissan warranty. Nissan has worked for years to minimize its environmental impact; as a result, the Rogue's carbon footprint is minimal. Not surprisingly, with all of the Rogue's advantages, this remarkable Nissan Midsize SUV retains a high percentage of its value at 3 years and 36,000 miles, which makes the Nissan Rogue a great used buy! When seeking a safe, stylish and economical Midsize SUV, Scottsdale Nissan buyers should head to Pinnacle Nissan, located at 7601 E Frank Lloyd Wright Blvd in Scottsdale, AZ
Nissan Rogue service information for North Scottsdale
Nissan Rogue lessees and owners in North Scottsdale have recognized that Pinnacle Nissan at 7601 E Frank Lloyd Wright Blvd in Scottsdale is the very best choice for Rogue warranty work, regular maintenance, inspections and mechanical repairs. At Pinnacle Nissan, Certified Nissan Technicians trained in the very latest corrective and diagnostic techniques work for one thing - your complete satisfaction. Whether it's time for your Nissan to have an oil change, tire rotation, or simply undergo Rogue Scheduled Maintenance, Pinnacle Nissan is your first choice. Our Certified Nissan Mechanics also complete specialty jobs and repairs. Pinnacle Nissan is the smartest choice in North Scottsdale for fast, accommodating and professional Nissan Service of all kinds.
If you'd like to make an appointment to have your Rogue serviced, click the link or just give us a call. We'll see you soon!