The 2012 Nissan NV 2500 from Pinnacle Nissan is the epitome of passionate automotive craftsmanship built to fit the needs of AZ Nissan aficionados. Pinnacle Nissan is delighted to present the 2-door 2012 Nissan NV 2500 Van. As your Phoenix Nissan dealer, we hope you find our 2012 Nissan NV 2500 reviews and research materials effective in finding the amenities, specifications and information you've been on the lookout for. View Pinnacle Nissan's new lineup of 2012 Nissan NV 2500 Vans.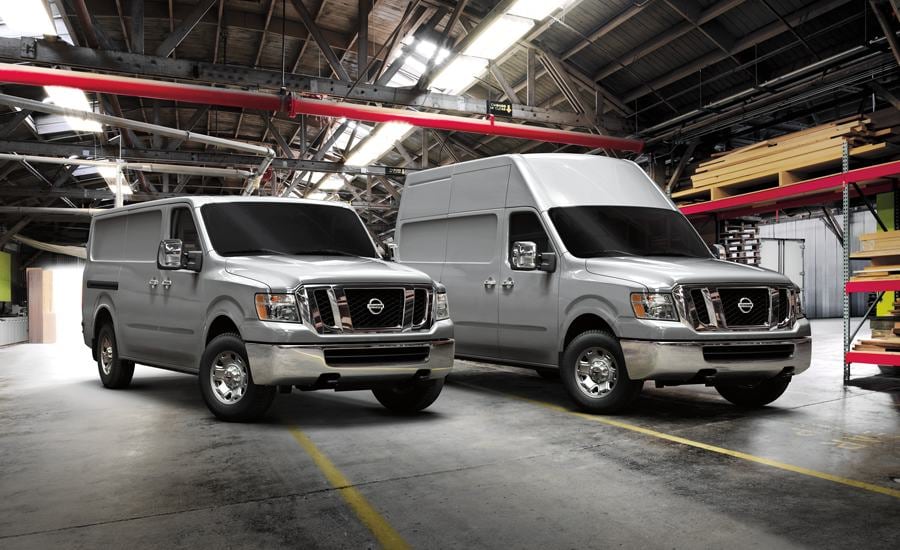 Pinnacle Nissan presents the 2012 Nissan NV 2500 Van
Buyers find that when they compare the 2012 Nissan NV 2500 to other makes like the Ford Econoline, Chevrolet Express, GMC Savana, Freightliner Sprinter and Ford Transit Connect , the Nissan NV 2500 shines as the most fun to drive. Check out our Quick List stats below to see why!
The 2012 Nissan NV 2500 has an MSRP of $25,590
The 2012 Nissan NV 2500 gets N/A city / N/A highway MPG
The 2012 Nissan NV 2500 goes from 0-60 MPH in N/A seconds
The 2012 Nissan NV 2500 features 42 inches of legroom up front and N/A inches in back
The 2012 Nissan NV 2500 features 48.2 inches of headroom in front and N/A inches in back
The 2012 Nissan NV 2500 is 240.3 inches long, 79.9 inches wide and is 83.9 inches tall
The 2012 Nissan NV 2500 weighs 3142 pounds and has a turning radius of 22.6 feet
We know you'll appreciate the Nissan NV 2500 - visit Pinnacle Nissan in Phoenix today!
You've seen the Nissan Altima and the Nissan Maxima, but what about a Nissan van? Although you may not be aware of Nissan's commercial vehicle expertise, Nissan's all-new NV van benefits from their coverage of more than 75 percent of the global CV (commercial vehicle) market, and 75 total years of experience. Wrap all of that together, add a generous splash of advanced engineering and technology, garnish with practical utility and you've got the brand new 2012 Nissan NV. The NV is more than a van, it's your own personal mobile office designed for the way you work. It features commercial utility and the advantage of two roof configurations - Standard Roof and High Roof. Autoblog writes, "Up front, there are a number of storage pockets and compartments to hold whatever is needed, while High Roof models offer an overhead console for additional storage options." Get all of the storage and hauling space you need with a brand-new Nissan NV from Pinnacle Nissan in [Dealership City].
The Ford Econoline, Chevrolet Express, GMC Savana, Freightliner Sprinter and Ford Transit Connect can't compete with the 2012 NV's overall power and originality. In a recent article from Work Truck Magazine, Commercial Vehicles and Fleet vice president Joe Catelli said, "?we've taken a fresh look at every aspect of the CV business - including styling, powertrain, interiors, cost of operation and ownership, dealership sales and service operations and, most importantly, real-world customer needs." If your business needs a real-world edge, call Pinnacle Nissan in Scottsdale today and inquire about the soon-to-be-released 2012 Nissan NV.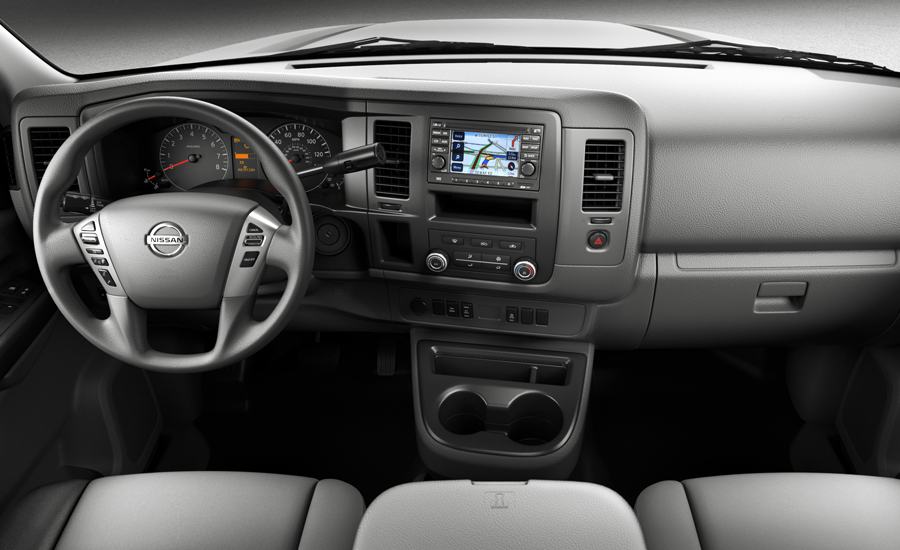 The Nissan NV is a brand new commercial van setting its sights on American shores for the very first time. The NV is the first commercial van to offer rugged body-on-frame construction combined with a high roof, offering most users the ability to walk, stand, and work in the cargo area. The cargo area will feature a full-length inner panel to prevent cargo from denting the vehicle's outer skin, as well as offering mounting points for shelving and rack solutions. Rick Kranz of Automotive News wrote, "I've walked through the high-roof Nissan NV. It's a segment changer." And guess what; we think he's right. With a base MSRP of $24,590 and customizable options, the 2012 Nissan NV offers Scottsdale van buyers affordable practicality and Pinnacle Nissan value that will change the way you do business.
The all-new 2012 Nissan NV (available soon at Pinnacle Nissan) comes in 3 different Trim Levels: the Nissan NV1500, the Nissan NV2500 HD, and the full-size Nissan NV3500 HD. Scottsdale drivers may choose from colors like Tuscan Sun Metallic, Super Black, Red Alert, Navy Blue Metallic, and many more.
Powering the rear-wheel drive Nissan NV is a choice of two powerful yet fuel-efficient engines - a 4.0 liter V6 rated at 261 horsepower and 281 lb. - ft. of torque, and a 5.6 liter V8 rated at 317 horsepower and 385 lb. - ft. of torque. Both are mated to a standard 5-speed automatic transmission. In addition to highly capable engines, the new Nissan NV has two roof options; a Standard Roof (all models) and a High Roof (NV2500 HD and NV3500HD only). The High roof allows for enough room to stand, opening up a new world of additional work possibilities for the 2012 NV. Nissan spent copious amounts of time interviewing fleet owners, small business owners, and aftermarket suppliers across the country to find out what businesses are really looking for in an affordable commercial van. The result of their findings are all here in the 2012 Nissan NV, coming soon to [Dealership Name] in Scottsdale.
The 2012 Nissan NV's rugged, masculine design combines a pickup truck-style full-length hood that provides generous access to the engine for service and maintenance and added driver compartment roominess and comfort, along with signature Nissan styling cues such as large headlights and a stylish vertical grille. The NV's exterior has a front end that resembles the Nissan Titan and a rear end that mimics the European-styled Ford Transit Connect, making for a uniquely branded commercial van. Call Pinnacle Nissan to get details on the all-new 2012 Nissan NV.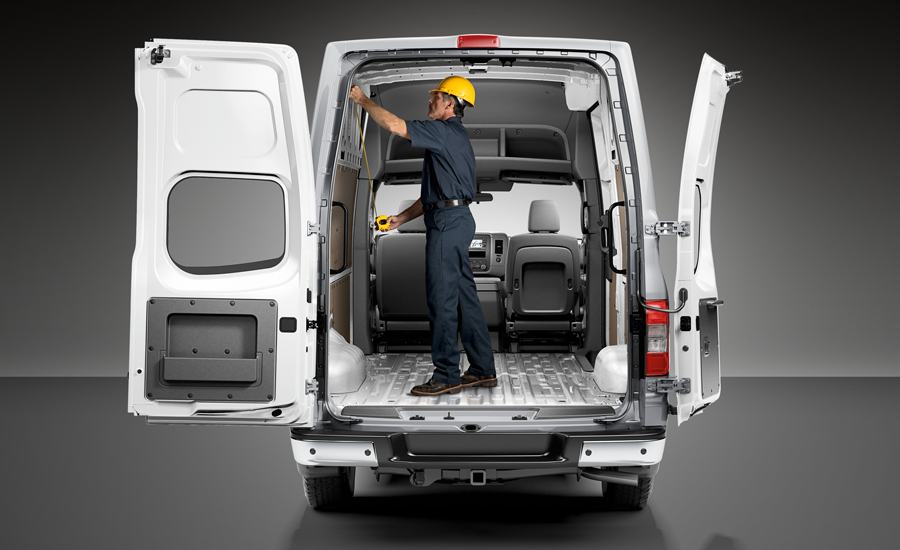 The interior of the NV is rife with helpful amenities and surprising comfort features that support the idea of the NV as a "mobile office" or "mobile workshop." All Trim Levels have a variety of storage pockets and compartments that will fit anything from beverages to tools to 3-ring binders. High Roof models have ample overhead storage and a locking center console to store valuables or important information. The rear cargo door openings are quite wide and provide plenty of room to negotiate heavy or unwieldy materials safely into place. The NV's wheelhouses are spread far enough apart that it is possible to accommodate sheets of drywall or pallets. Spread throughout the cargo area, Scottsdale contactors and movers alike will find the many available cargo tie-down rings and plentiful lighting helpful for on-the-go projects and tasks. Call Pinnacle Nissan to find out about additional interior features and aftermarket customization options!
The base model 2012 Nissan NV1500 comes with: premium cloth seats with a water-repellant feature and wear-resistant patches, a 4-way manual driver's and passenger's seat, 6 floor-mounted tie-down rings in the cargo area, an AM/FM/CD/ audio system with two speakers and an auxiliary jack, digital meter gauges, map lights, air conditioning, Nissan cup holders, a 12-volt power outlet, and rear cargo door assist grips. Pinnacle Nissan in Scottsdale would be happy to explain the different package options and add-ons available in the NV, so call today!
Pinnacle Nissan's 2012 Nissan NV2500 HD adds to the 1500 with: an 8-way powered lumbar driver's seat, an AM/FM/CD/MP3 audio system with 4 speakers, powered windows, doors, and locks, remote keyless entry, a center console with a sliding table, and additional 12-volt power outlets. [dealename] in Scottsdale will have the NV2500 HD with an available Technology Package featuring a rear view monitoring system, navigation, and much more.
The top of the line full-size Nissan NV3500 HD adds standard and optional features like: Bluetooth, XM Satellite Radio, the Secure Data Card-Based Navigation System with a 5-inch touch-screen display, a rear window defogger, and a rear Sonar System. Contact Pinnacle Nissan in Scottsdale for more information on the 2012 Nissan NV3500 HD!
Owning a Nissan NV 2500 from Pinnacle Nissan makes AZ driving commodious, safe and pleasurable - all at the same time! This is why:
Pinnacle Nissan has a extensive stock of 2012 Nissan NV 2500 Vans with standard Nissan safety features like anti-lock brakes, traction control, driver airbags, passenger airbags, side airbags and more, making the 2012 NV 2500 an NHTSA and IIHS favorite. In addition to these safety features, the 2012 Nissan NV 2500 can capably seat up to 2 passengers. Trunk space with Nissan is never a worry; the NV 2500 can hold up to 121.9 cubic feet of your gear, ensuring that your next drive is hassle-free. To top it all off, the 2012 Nissan NV 2500 includes an impressive list of comfort and convenience amenities like powered windows, mirrors, doors and locks, climate control, AC and optional hands-free phone and navigation systems. Take a test drive at [Dealership Name] today and experience the Nissan NV 2500 for yourself.
The Nissan manufacturer's warranty covers the NV 2500 for manufacturing defects and has a 3 years / 36,000 miles Nissan warranty. Nissan has worked for years to minimize its environmental impact; as a result, the NV 2500's carbon footprint is minimal. Not surprisingly, with all of the NV 2500's advantages, this quality Nissan Van retains a high percentage of its value at 3 years and 36,000 miles, which makes the Nissan NV 2500 a great used buy! When seeking a safe, stylish and economical Van, Scottsdale Nissan aficionados should head to Pinnacle Nissan, located at 7601 E Frank Lloyd Wright Blvd in Scottsdale, AZ
Nissan NV 2500 service information for Phoenix
Nissan NV 2500 lessees and owners in Phoenix have found that Pinnacle Nissan at 7601 E Frank Lloyd Wright Blvd in Scottsdale is the very best choice for NV 2500 warranty work, regular maintenance, inspections and mechanical repairs. At Pinnacle Nissan, Certified Nissan Technicians trained in the very latest corrective and diagnostic techniques work for one thing - your complete satisfaction. Whether it's time for your Nissan to have an oil change, air conditioning repair, or simply undergo NV 2500 Scheduled Maintenance, Pinnacle Nissan is your first choice. Our Certified Nissan Technicians also complete specialty jobs and repairs. Pinnacle Nissan is the smartest choice in Phoenix for quick, amicable and professional Nissan Service of all kinds.
If you'd like to make an appointment to have your NV 2500 serviced, click the link or just give us a call. We look forward to seeing you soon!