Read about 2016 Titan for the Scottsdale area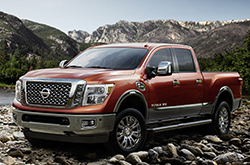 The all-new Titan rolls into 2016 with pure brawn that will make truck enthusiasts drool. Bridging the gap between heavy-duty hauling and light-duty comfort and affordability, the 2016 Nissan Titan in Scottsdale is a practical choice that you'll love to flaunt on the worksite, around town or on a weekend getaway. Between the new Titan XD frame size, V6 engine option, updated interior and revised exterior designs, the immaculate new Titan elevates Nissan's flagship pickup as a major contender in its segment.
Check out the 2016 Nissan Titan reviews and you'll see that the new XD frame may just be one of the most exciting additions to the pickup segment this model year. After all, few other trucks are bridging the heavy- and light-duty gap with the finesse and convenience the XD so smoothly delivers. Packed with a mega 5.0L turbo diesel V8 engine that is rated at 310 horsepower and 555 lb-ft of torque, the XD holds nothings back. Add in the 12,000-pound towing capacity and 2,000-pound maximum payload and you have an unparalleled puller that can tackle any job site. Of course, there is no going wrong with the standard Titan frame size, either. Available with an efficient V6 engine or a powerful V8, the light-duty Titan promises performance, comfort and plenty of amenities fit for your Arizona lifestyle.
Inside, the Titan sees interior upgrades that buyers will love. From available Zero Gravity seats to leather-appointed seating, NissanConnect infotainment with Navigation and a premium audio system, the Titan is stacked with features that offer first-class comfort.
The refinement doesn't stop there, though. The 2016 Nissan Titan in Scottsdale can be equipped with pristine LED headlights, integrated spoilers and elite bed technologies. Available in two frame sizes (standard and XD), three cab configurations, three powertrain options and five trim levels, the Titan offers a little bit of something for everyone.
Whether you're looking for a heavy-duty tower that excels on the job or a spacious pickup with enough space for every adventure, many 2016 Nissan Titan reviews are sure you'll be pleased with all this pickup and its capable new XD model has to offer. Want to see for yourself? Test drive one of our elite models in Scottsdale today!