2015 Nissan 370Z Reviews from Pinnacle Nissan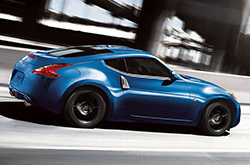 The iconic Nissan 370Z has returned to Phoenix! Z combines performance and style like few other sports cars, offering the perfect mix of form and function with an aerodynamic design that aids its driving dynamics. And like a good pair of jeans or matured whiskey, it only gets better with age. Case in point: This year, those who purchase a 2015 Nissan 370Z in Scottsdale can choose from added trim levels, while 370Z NISMO fans will be thrilled with the high-performance model's substantial redesign, which includes eye-catching new interior and exterior treatments.
With revised suspension and steering systems, the 370Z hatchback coupe and soft-top roadster deliver greater ride quality and handling. The coupe is offered in all-new Sport and Sport Tech trims; the former gets features like sport brakes, a spoiler and fierce RAYS wheels, while the latter takes these features and adds navigation and a Bose sound system that audiophiles will drool over. Roadster models also receive a new trim, the Touring Sport, which combines content from Sport and Touring trims.
In addition, 2015 Nissan 370Z reviews can't stop talking about the NISMO model's aggressive new look, which includes new body pieces that optimize airflow and downforce for added performance edge. NISMO also continues to offer other features that distinguish it from the rest of the lineup, such as suspension dampers, special brakes, a limited-slip differential and a version of the stock V-6 that cranks out more horsepower. Plus, it adds a new Tech trim with an auto-dimming rearview mirror, rearview camera, navigation and other amenities.
Locals can find the new 2015 Nissan 370Z in Scottsdale now! Visit us to learn more about all of this year's changes and check out the latest new additions to the lineup! See the rest of our 2015 Nissan 370Z review to find additional vehicle specifications and please fill out our online contact form to schedule a test drive!�