Review the 2015 Rogue from Nissan Dealer in Scottsdale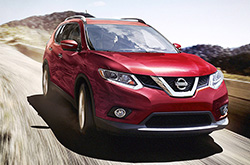 Did you know that Rogue is Nissan's second best-selling vehicle? Yup, that's right. It ranks in right behind the Nissan Altima, which actually makes it the most popular crossover in Nissan's lineup. This is no surprise to us considering its fun performance, eye-catching style, flexible interior and third-row option. Plus, following Rogue's full redesign last year, Nissan has decided to offer additional updates for 2015 shoppers, so you can look forward to even more perks.
Buy or lease a 2015 Nissan Rogue in Scottsdale and you'll get to take advantage of a new Eco mode on the transmission, which promotes greater efficiency without sacrificing performance. Also, if you choose the SV Premium package, cozy heated cloth seats have been added to the equipment group. On top of these new additions, the SUV offers several other notable amenities, including a surround-view camera that was called a must-have feature in Car Connection's 2015 Nissan Rogue review. The class-exclusive Divide-N-Hide Cargo System is another noteworthy appointment for those who regularly utilize the back cargo area. And for techies, there are features like Bluetooth hands-free phone and an infotainment system with a 5-inch color touch screen.
Now when you hear folks call Rogue a "no-sacrifice" SUV, you'll know exactly what they mean. It offers a little something for everyone, whether you're looking for performance, comfort, efficiency or technology. And if you choose to purchase a 2015 Nissan Rogue in Scottsdale, you'll also have bragging rights. They say, "There's Rogue, and then there's the rest" for a good reason. With best-in-class city and highway fuel economy ratings (2WD), best-in-class max cargo volume and best-in-class front headroom, it outshines the competition in several areas. Plus, it offers the lowest starting MSRP in the midsize SUV class.
For additional details about the current second-generation SUV, see the remainder of our 2015 Nissan Rogue review below. For information about the 2015 Nissan Rogue Select, a carryover version of the previous generation Rogue, please contact or visit Pinnacle Nissan in Scottsdale.�