Learn More About the New NV From Pinnacle Nissan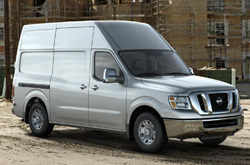 NV means business. With utility-based designs, smart connectivity features, efficient yet powerful engines, and several unique configuration options, no one could ever accuse NV of slacking on the job. If this sounds like the type of hard worker you're looking for, make it a part of your crew.
When it comes to primary highlights, NV Passenger vans offer first-class safety with the most airbags in the class, while NV Cargo vans provide 234.1 cubic feet (standard roof) to 323 cubic feet (high roof) of cargo space for your products and tools. If you're looking for versatility, the latter is equipped with up to 57 reinforced cargo mounting points, where you can add on racks, containers and other upfits. Or choose the Passenger and you'll have access to 324 seating configurations! Plus, if you don't want an old-school full-size passenger van, Left Lane News' 2015 Nissan NV review says you'll find a "durable, fully modern offering" with a "spacious, versatile interior" when you choose an NV.
Fleet managers and business owners in the Phoenix area are invited to browse 2015 Nissan NVs in Scottsdale. Visit our dealership at 7601 E. Frank Lloyd Wright Blvd., between 76th Street and 78th Street, to check out stock today!
Both the cargo and passenger-hauling NV offer intelligent technologies that'll keep your crew in touch. The available NissanConnect with Navigation and Mobile Apps system offers extensive functionality for work needs. With turn-by-turn directions, your drivers will never get lost and they can get up-to-the-minute travel information with services like SiriusXM Traffic and Travel Link (subscription required). The system also features hands-free text messaging assistant and Bluetooth hands-free phone, so your drivers can keep their hands on the wheel and eyes on the road when communicating with you or your customers while on route.
In addition, all��2015 Nissan NVs in Scottsdale and Phoenix come with America's Best�Commercial Van Warranty and 800,000 miles of reliability road testing! So if you're looking for a dependable workhorse with proven ability, look no further. Check out the rest of our 2015 Nissan NV review below to try out our Dare to Compare tool!�