Nissan Leaf Review for 2015 Model Year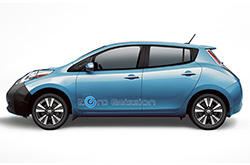 The world's top-selling electric car turns 5 years old this year, but it's still as fresh as ever. With zero money spent on gas and low maintenance costs, LEAF delivers a strong value proposition. And it provides exceptional range, cabin space and infotainment features that exceed most driver's daily needs. Visit Pinnacle Nissan to find the new 2015 Nissan LEAF in the Phoenix area and experience 100-percent electric fun.
Valley shoppers can select from S, SV and SL trim levels, and each offers "a quiet, smooth ride for only pennies per mile," according to CarConnection.com's 2015 Nissan LEAF review. Owners can also take advantage of benefits like free public charging at select locations across the Phoenix area and access to the HOV lane (check Arizona regulations).
Along with having an intelligent gas-electric powertrain that enables eco-friendly commuting (up to 126 MPGe city), the 2015 LEAF also comes equipped with smart in-car features that enhance entertainment, comfort and safety for all passengers. Standard amenities include a trip computer, Bluetooth hands-free phone, automatic climate control, a rearview camera, heated front and rear seats, and SiriusXM Satellite Radio. 2015 Nissan LEAF reviews also praise the CARWINGS telematics system (standard on the SV and SL), which gives LEAF owners remote access to charge, check the range and pre-set cabin temperatures for their cars.
In addition, the 2015 model offers several updates: The entry level LEAF S gains B-Mode, which means all trims now offer three drive modes - Normal, Eco and B. When B-Mode is activated, regenerative braking is engaged more aggressively as the car decelerates in order to recoup added energy for the car's battery. In addition, SV and SL trims receive Hands-Free Text Messaging Assist and Voice Destination Entry, a navigation feature that's activated using voice controls. Lastly, Scottsdale LEAF SV buyers will get new standard 17-inch aluminum alloy wheels.
If you never want to visit a gas station again, except maybe to put air in your tires, buy or lease a 2015 Nissan LEAF in the Phoenix area. We offer a large selection of Nissan LEAFs at our dealership in Scottsdale, Ariz. Stop by to browse our inventory today!�