Nissan GT-R Comparisons & Quick Specs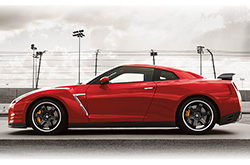 We're sure that the GT-R is perfect for you. That's why we offer tools that will allow you to compare Nissan's most current model alongside the 2015 Porsche 911 Carrera, Chevrolet Corvette Z06, Audi RS 5 and the BMW M6. You'll be pleased with the GT-R's long list of noteworthy attributes, including its competitive sticker price and leading-edge features. When compared to the aforementioned vehicles, in terms of price it's clearly a spectacular value, making it a popular choice among Nissan customers in Phoenix. Glance over the GT-R bullet list below for more quick facts.
2015 Nissan GT-R Seats: 4 passengers
2015 Nissan GT-R Cargo Space: 8.8 cubic feet
2015 Nissan GT-R MSRP: $101,770
2015 Nissan GT-R Doors: 2-door
2015 Nissan GT-R MPG: 16 city / 23 highway
2015 Nissan GT-R Body Style(s): Midsize Coupe
2015 Nissan GT-R 0-60 MPH in 2.7 seconds
2015 Nissan GT-R Colors: Solid Red, Low Gloss Matte Gray, Deep Blue Peark, Jet Black, etc...