Nissan Dealer in Phoenix Reviews the New 370Z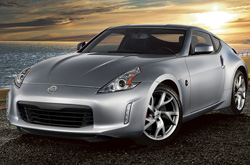 Seeking out information on your next vehicle purchase is important. That's why we take the time to create reviews on the Nissan Nissan 370Z. As the prominent automotive writers performed countless hours of research on the 370Z to provide you with the most skillful information possible. This Nissan review article contains everything you need to know about the 370Z and it's specifications, mpg and more. Does the 370Z have your name on it? Read more and find out!
Watch a Video on the New 370Z
Compare the Nissan 370Z's Specs & Features
Compare the 2013 Nissan 370Z head-to-head with vehicles like the 2013 Ford Mustang, Hyundai Genesis Coupe, Dodge Challenger and the Chevrolet Camaro, and you'll notice that the 370Z transcends the competition in loads areas. View our Quick List below to find out why!
2013 Nissan 370Z MPG: 18 city / 26 highway
2013 Nissan 370Z Colors: Magnetic Black, Midnight Blue, Solid Red, etc...
2013 Nissan 370Z MSRP: $33,120
2013 Nissan 370Z 0-60 MPH in 5.1 seconds
2013 Nissan 370Z Cargo Space: 7 cubic feet
2013 Nissan 370Z Body Style(s): Coupe
2013 Nissan 370Z Seats: 2 passengers
Features & Trims Available to Phoenix Nissan 370Z Shoppers
About Pinnacle Nissan's Service & Auto Repair Facility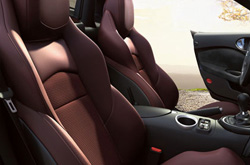 Your Nissan deserves to be treated with the utmost respect - that means Nissan factory- trained 370Z technicians, the sense of contentment that comes from a 1 year service work warranty and real Nissan 370Z parts. Pinnacle Nissan service and Nissan repair in Phoenix is a double click away! Our Nissan auto service facility in Phoenix is home to distinguished repair professionals, so bring your 370Z over for topnotch service. The following is barely a tiny part of what we handle: brake pad fixes, transmission repairs, windshield wiper replacement and much more. We also manage a variety of additional services. For low-cost, topnotch Nissan car repair in Phoenix, the headmost place you should take your 370Z is Pinnacle Nissan. Take a look below to view money-saving service specials.