About Nissan Reviews From Pinnacle Nissan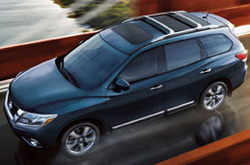 We have great 2013 Nissan Pathfinder research and reviews below so you can start learning about the new Pathfinder. All Nissan dealers in Phoenix aren't the same. At Pinnacle Nissan, we feel it's our mission to outfit customers with quality Nissan reviews that set us apart from the typical dealer. Each paragraph is filled with practical facts and specs- everything you need to make cognizant decisions on your next vehicle purchase. What are you waiting for? Watch the video below or start reading the 2013 Pathfinder review below!
Pathfinder Video Review - Specs, Features & More
Premier Information on the Brand-New Pathfinder
Nissan Pathfinder Comparisons & Quick Specs
When considering the 2013 Nissan Pathfinder side-by-side with the 2013 Ford Explorer, Mazda CX9, GMC Acadia, Ford Flex, Dodge Durango and the Chevrolet Traverse, and you can catch that the Pathfinder out does those autos in quite a few parts. Take a look at the hightlights below.
2013 Nissan Pathfinder Body Style(s): Midsize SUV
2013 Nissan Pathfinder Colors: Super Black, Storm Blue, Pearl White, etc...
2013 Nissan Pathfinder MSRP: $28,270
2013 Nissan Pathfinder MPG: 15 city / 22 highway
2013 Nissan Pathfinder Cargo Space: 16.5 cubic feet
2013 Nissan Pathfinder Seats: 7 passengers
2013 Nissan Pathfinder 0-60 MPH in 7.8 seconds
Phoenix Nissan Shoppers: Learn About the 2013 Pathfinder's Features
Engine Specs: See What's Under the 2013 Pathfinder's Hood
Peace of Mind Comes Built into the 2013 Nissan Pathfinder
Pinnacle Nissan's Service Center Is Here for You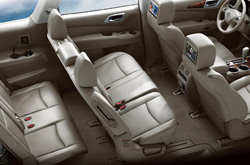 Don't travel to a megacorp car repair shop in Phoenix when Pinnacle Nissan's superb Pathfinder experts are only a short jaunt away from your neighborhood. We also provide a year warranty on our work - more than most megacorp shops do. Don't ignore servicing your Nissan. Turn to Pinnacle Nissan's competent mechanics. Whether you're searching for cheap shock and strut repair or less laborious work like in-cabin air filter replacement or simple oil changes, we'll take care of it! And these things are barely a portion of the work we do. Pinnacle Nissan is your best bet in Phoenix for quick, professional Nissan service and regularly scheduled maintenance. Get unreal savings - before you stopover at our repair center, bring a coupon. Click the link below!