About the Nissan Murano in Phoenix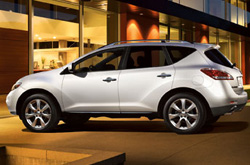 2013 Nissan Murano research and review from Pinnacle Nissan, The trusted resource. The Nissan Murano reviews are transcribed by experienced vehicle authors. It is just one of many resources we provide as the top-rated Nissan franchise in Phoenix. Filled with usable facts and specs, each article gives you full access to everything the Nissan Murano has to offer. Read on to see if the 2013 Murano should be parked outside your home.
360 Degree Tour of the Nissan Murano Midsize SUV
Is the Nissan Right for You?
Compare the 2013 Nissan Murano against vehicles like the 2013 Honda Pilot, Ford Edge and the Toyota Venza, and you'll find that the Murano outperforms the competition in many areas. Scan our Quick List below to find out why!
2013 Nissan Murano Seats: 5 passengers
2013 Nissan Murano Cargo Space: 31.6 cubic feet
2013 Nissan Murano MSRP: $29,960
2013 Nissan Murano Body Style(s): Midsize SUV
2013 Nissan Murano Colors: Super Black, Tinted Bronze, Merlot, etc...
2013 Nissan Murano MPG: 18 city / 24 highway
2013 Nissan Murano 0-60 MPH in 7 seconds
2013 Nissan Murano Highlights, Features & Trims
Helping You Uphold the Value & Quality of Your Investment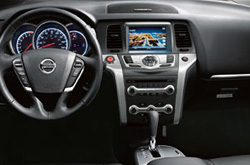 Don't look to a conglomerate car repair shop in Phoenix when Pinnacle Nissan's spectacular Murano experts are only a short spin away from your place of residency. We also supply a lengthy warranty on our repairs - more than most conglomerate shops do. Don't overlook protecting your Nissan. Turn to Pinnacle Nissan's qualified mechanics. We can take care of a job as easy as an oil change, or handle involved car service and repairs like Nissan timing belt replacements, transmission rebuilds, and strut and shock repairs. For both involved and simple services, our Phoenix car repair center can manage everything; moreover Pinnacle Nissan offers budget-friendly maintenance pricing. Get outstanding savings - before you stop by our repair division, bring a coupon. Click the link at bottom!
Contact our service center day or night using our online form