About Nissan Reviews From Pinnacle Nissan
To begin reading Pinnacle Nissan's 2013 Frontier review, scroll down below the video. With the help of automotive writers, Pinnacle Nissan put together some of the finestNissan Frontier reviews you'll find anywhere. This article will tell you exactly what you're looking for. As your Phoenix Nissan retailer, you can entrust on us for accurate information on the 2013 Nissan Frontier. What are you waiting for? Watch the video below or start reading the 2013 Frontier review below!
Watch a Video on the New Frontier
Quick Stats for the Nissan Frontier
When considering the 2013 Nissan Frontier side-by-side with the 2013 Toyota Tacoma, Honda Ridgeline and the GMC Canyon, and you can find that the Frontier beats out those autos in several parts. See the hightlights below.
2013 Nissan Frontier Cargo Space: 87.7 cubic feet
2013 Nissan Frontier Body Style(s): Compact Truck
2013 Nissan Frontier Seats: 5 passengers
2013 Nissan Frontier MPG: 16 city / 20 highway
2013 Nissan Frontier MSRP: $19,260
2013 Nissan Frontier Colors: Super Black, Red Brick, Metallic Blue, etc...
2013 Nissan Frontier 0-60 MPH in 7.4 seconds
Nissan Frontier Notable Amenities, Accessories & More
Frontier Engine Options for Phoenix Nissan Shoppers
Safety Features & Warranty Info for Phoenix Nissan Buyers
Maintaining Your Investment - We're Here to Help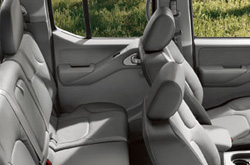 Don't travel to a mom and pop car repair shop in Phoenix when Pinnacle Nissan's fantastic Frontier experts are only a brisk jaunt away from your pad. We also guarantee a gratis warranty on our repairs - more than most mom and pop shops do. The masters at our AZ Nissan service center can be trusted to keep your Frontier in outstanding condition for years to come. Whether you come for common oil and filter changes, a easy tire alignment and mends or anything else, we'll complete your Nissan repairs with ease. When picking a spot to service your Frontier, make a favorable choice and take it to Pinnacle Nissan, where you'll get low-cost pricing on Phoenix car service and repair. Get on the spot savings at the following link. Click below to scope out coupons!