If you ask us "what's to like about the 2019 Rock Creek edition?" we say "lots!" In the past, the Nissan Pathfinder stood out for being one of the most practical and utilitarian SUVs on the road. Today, there are several trim levels available in the Pathfinder family. Each has its own personality. The Rock Creek edition stands out as being the most outdoor-oriented of the bunch. This is apparent from a first glance at its exterior, which features sporty black trim accents, large 18-inch wheels, rugged all-season tires, and a towing hitch. These are all standard amenities, but a series of special packages opens the door for customization. Inside, a hand-crafted cabin filled with the latest in technology, comfort, and safety leaves little to be desired in the 2019 Rock Creek model.
First Impressions
On the outside, the 2019 Rock Creek edition stands tall and proud on blacked-out 18-inch wheels. The standard wheels are larger than what you will find on any other version of the Nissan Pathfinder in 2019. However, all models (including the Rock Creek) are available for a wheel upgrade. With the Rock Creek, you can upgrade to 20-inch wheels if you want a more distinctive appearance, more off-road capabilities, or both. All-season tires are standard with the 18-inch wheels, but you can get more durable all-season tires by choosing the larger wheels. Custom black accents distinguish the 2019 Rock Creek trim from its peers. Standard black accents cover the mesh front grille, the front and back fascias, and the wheels. With the addition of a special appearance package, you'll get all-black mirror caps, roof rails, and door handles too.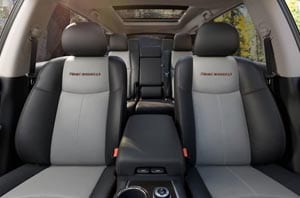 A Standout Interior
While the 2019 Rock Edition will catch your eye at first glance, the interior offers plenty of enticing amenities to hold your attention. Standard conveniences include a highly visible, user-friendly infotainment displays screen with Bluetooth and optional navigation. Eight-way and four-way adjustable seats for the driver and front passenger, respectively, make for comfortable rides of any distance. A tri-zone climate control keeps everyone comfortable. The back rows have split-folding seats that can stow away when not in use to maximize space. You'll find two-tone seats and contrast stitching across the interior on any trim level. But if you want even more luxury, the Premium package adds leather seats, heated seats, a heated steering wheel, and an oversize panoramic sunroof. Standard safety on the Rock Creek includes an advanced airbag system, a rear parking sensor, automatic emergency braking, rear cross-traffic alert, and blind spot monitoring.
Power and Mechanics
There is one engine available on all trim levels of the Rock Creek edition. This engine is a six-cylinder, 3.5L engine with 24 valves. At top capacity, it is capable of generating nearly 285 HP at 6,400 RPM. This engine can crank out up to 259 LB-FT of torque when revving at 4,800 RPM. Based on your personal preference, you can get the Rock Creek with either front-wheel drive or four-wheel drive. You'll get hill start assist with both, but the four-wheel drive also adds hill descent control.
Power, luxury, and performance come together harmoniously in the 2019 Rock Creek Pathfinder. Inside and out, there's little that you'll find lacking in the latest Rock Creek. But if you want even more of your favorite features, there are many add-on amenities and packages available. If you have questions about the Rock Creek or want to test drive one in person, don't hesitate to contact us by phone or through our website at your convenience.