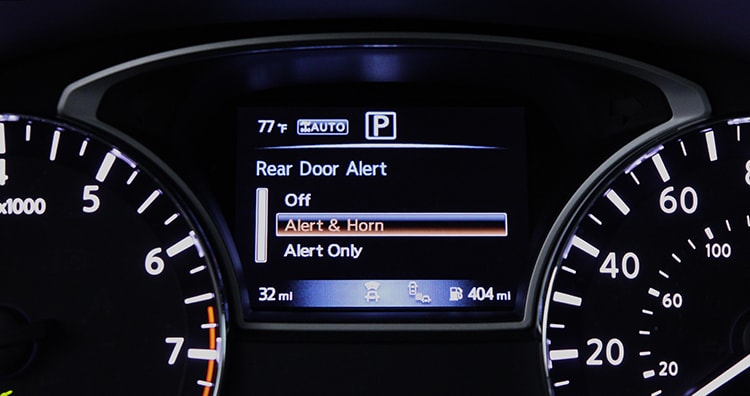 For parents, there's no such thing as being "too careful," especially when it concerns the safety of your child. Accidents can, and do, happen—however, thanks to recent innovations by automakers like Nissan, some of these accidents can be prevented entirely.
Nissan's latest safety development, Rear Door Alert (RDA), is one of those innovations. Initially proposed by two Nissan engineers/mothers, this feature aims to help out busy, tired parents by reminding them to check the backseat before leaving the vehicle. Utilizing a variety of visual and auditory alerts, the system prevents anything, whether it be a child, pet or cargo, from being left behind.
"The idea is if you open a rear door, whether to put a child or a package in the rear seat, the vehicle will help alert you when you get to your destination that you may want to check the rear seat," said Marlene Mendoza, mechanical engineer and mother of three. "We've built in enough time that you don't have to rush, but if you don't open the rear door again when you get out of the vehicle, we want you to think for a moment about what you may have put in the back seat."
RDA is initially activated when a rear door is opened before a trip starts. After a driver arrives at their destination, puts the vehicle in park and turns it off, the system waits to see if the rear door is opened again. If not, a message will appear in the driver information display, followed by several distinctive horn sounds.
"The Rear Door Alert uses a similar honking cue that has been proven successful with Nissan's Easy Fill Tire Alert," explained Elsa Foley, industrial engineer and mother of two. "By drawing your attention back to the vehicle, once you've walked away, you are more likely to recheck the back seat than with a visual alert alone."
RDA is set to debut on the 2018 Nissan Pathfinder, coming soon to Pinnacle Nissan. To see the new safety feature in action, watch the video below!