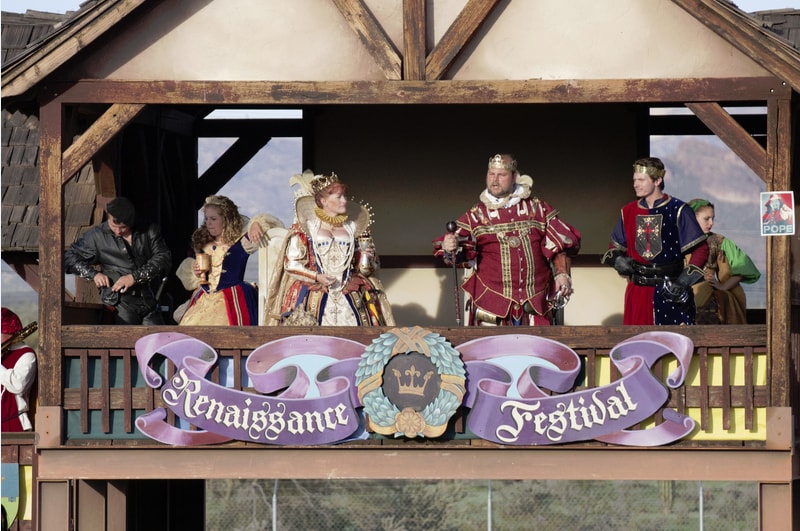 The Arizona Renaissance Festival is back in the Valley, once again offering a terrific good time to ye ole Phoenicians who are looking to convey themselves back in time to the good old days of knights, damsels and good roasted turkey legs.
"This Festival transports visitors to an European style fair filled with an agreeable rabble of knights, rogues, royalty and craftsmen, all roaming throughout a 30-acre village filled with delectable sights and sounds tantalizing the senses. Explore 200 charming craft shops, 13 stages of non-stop entertainment, an arena for full-contact armored jousting, a living fountain, kitchens, pubs, and people powered games and rides," a recent press release stated.
Currently in full swing, the Arizona Renaissance Festival is taking place during the entire month of March, ending on Sunday, April 2. During this time, guests can enjoy a plethora of exciting events, including the festival's famous jousting tournaments. They can also give a curtsy to the King and Queen, while enjoying some jolly games that were played during the 16th century.
Buy your tickets now for this fun and thrilling Phoenix-area event. More information can be found online, so head over to their website to see everything from participating crafts and food vendors to show times for the various musical acts that will be performing throughout the festival grounds.
We hope you have a merry good time!
Arizona Renaissance Festival
When
Now-April 2, 2017
Where
Festival Village
Gold Canyon, AZ
Times
10 a.m.-6 p.m.
Admission
$24: Adults
$21: Seniors 60
$14: Children 5-12
Free: Kids 5 & under
Contact
(520) 463-2600