The 2012 Nissan Armada from Pinnacle Nissan is the symbol of committed automotive craftsmanship built to fit the needs of Arizona Nissan aficionados. Pinnacle Nissan is excited to present the 4-door 2012 Nissan Armada SUV. As your North Scottsdale Nissan dealer, we hope you find our 2012 Nissan Armada reviews and research materials effective in finding the highlights, specifications and information you've been looking for. View Pinnacle Nissan's new lineup of 2012 Nissan Armada SUVs.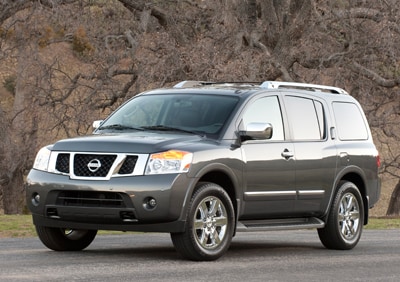 Pinnacle Nissan presents the 2012 Nissan Armada SUV
Buyers find that when they compare the 2012 Nissan Armada to other makes like the Chevrolet Suburban, Toyota Sequoia, Ford Expedition and Buick Enclave, the Nissan Armada stands out as the most fun to drive. Take a look at our Quick List table below to see why!
The 2012 Nissan Armada has an starting MSRP of $38,490
The 2012 Nissan Armada gets 13 city / 19 highway MPG
The 2012 Nissan Armada goes from 0-60 MPH in 7.9 seconds
The 2012 Nissan Armada features 41.8 inches of legroom up front and 41.9 inches in back
The 2012 Nissan Armada features 41 inches of headroom in front and 40 inches in back
The 2012 Nissan Armada is 207.7 inches long, 79.3 inches wide and is 77.2 inches tall
The 2012 Nissan Armada weighs 5346 pounds and has a turning radius of 40.8 feet
We know you'll like the Nissan Armada - visit Pinnacle Nissan in North Scottsdale today!
The new 2012 Nissan Armada is on sale at Pinnacle Nissan. This full-size, four-door SUV can sit up to eight passengers and offers copious space for cargo. Unlike other no-frills large SUVs, the Armada combines utilitarian functionality and posh styling. The Nissan Armada reviews well for its truck-like strength, powerful performance and attractive design. With a substantial amount of head, shoulder and legroom, the 2012 Armada is notably ample for a vehicle in its class. It's a great option for Scottsdale residents who desire a sophisticated large SUV, and Pinnacle Nissan is the perfect place to find a new or used Nissan Armada for sale. With a competitive MSRP of $38,490, the Armada is a terrific choice over the Chevrolet Suburban, Toyota Sequoia, Ford Expedition and Buick Enclave, especially for large families or any Scottsdale resident in need of a vehicle with lots of room and incredible towing power. Along with the new 2012 Armada, we also have a large selection of high-quality pre-owned vehicles. Visit our North Scottsdale Nissan dealership to find a pristine 2010 or 2011 Nissan Armada for sale today!
The Armada first hit the roads in 2004 and every since it has been an American family staple. With the Armada, North Scottsdale drivers can transport the soccer team or move large loads of cargo with ease. Both the 2011 Nissan Armada and the new 2012 model are available in SV, SL and Platinum trims with 2WD and 4WD configurations. The Armada's muscular profile is highlighted in beautiful paint colors like Tuscan Sun, Lakeshore Slate, Espresso Black and Blizzard.
When you visit Pinnacle Nissan, you'll learn all about the new 2012 Armada's plethora of safety features, just a few of which include brake assist, antilock disc brakes, stability control and airbags. In addition to driving a vehicle with outstanding safety features and top crash-test scores, North Scottsdale Nissan Armada owners will also feel secure knowing that the Armada comes with a 3 year/36,000 mile manufacturer's warranty. Not surprisingly, the Armada retains 41 percent of its value at 3 years and 36,000 miles, which makes it a great used buy! So stop by our North Scottsdale Nissan dealership to find the 2011 Nissan Armada, 2010 Armada or any other generation of this distinguished full-size SUV.
There is a lot of muscle under the hood of the 2012 Nissan Armada from Pinnacle Nissan. Every trim comes standard with a meaty 5.6-liter Endurance V8 engine rated at 317 horsepower and 385 pound-feet of torque. North Scottsdale Nissan Armada owners will shift into high gear with an advanced five-speed automatic transmission and can enjoy an energetic ride thanks to the Armada's double-wishbone suspension.
According to Automobile Magazine's Nissan Armada review, "the Armada puts the right stuff in a lot of the right places for buyers desiring a full measure of the large SUV experience." This doesn't just apply under the hood. The interior also comes loaded with all the right stuff. The base SV is equipped with rear parking assist, rear climate controls, dual-zone automatic climate control, power-adjustable pedals and much more. Taking it up a notch to the SL trim gets North Scottsdale Nissan shoppers several luxurious amenities including: a roof rack, foglight, Bluetooth and an 11-speaker Bose sound system. North Scottsdale residents who opt for the top-tier 2012 Armada Platinum will get added features like front parking sensors, heated front seats and a navigation system. These are only a few of the standard features that you will find when you get behind the wheel of the Armada. Visit Pinnacle Nissan today to learn more about all of the features that come with each trim.
If you are searching for a stylish, sporty and tremendously spacious vehicle, then the 2012 Nissan Armada is a great vehicle option for you! Don't forget that Pinnacle Nissan is also one of your top resources for finding a 2010 or 2011 Nissan Armada for sale. As a leading North Scottsdale Nissan dealer, we pride ourselves on offering one of the largest selections of inventory in the area.
Cruising in a Nissan Armada from Pinnacle Nissan makes Arizona driving commodious, safe and exciting - all at the same time! Here are some more details:
Pinnacle Nissan has a large collection of 2012 Nissan Armada SUVs with standard Nissan safety features like anti-lock brakes, traction control, driver airbags, passenger airbags, side airbags and more, making the 2012 Armada an NHTSA and IIHS favorite. In addition to these safety features, the 2012 Nissan Armada can pleasantly seat up to 8 passengers. Trunk space with Nissan is never a worry; the Armada can hold up to 97 cubic feet of your luggage, ensuring that your next outing is hassle-free. To top it all off, the 2012 Nissan Armada includes an excellent list of comfort and convenience extras like powered windows, mirrors, doors and locks, climate control, AC and optional hands-free phone and navigation systems. Take a test drive at Pinnacle Nissan today and experience the Nissan Armada for yourself.
The Nissan manufacturer's warranty covers the Armada for manufacturing defects and has a 3 years / 36,000 miles Nissan warranty. Nissan has worked for years to minimize its environmental impact; as a result, the Armada's carbon footprint is minimal. Not surprisingly, with all of the Armada's advantages, this quality Nissan SUV retains a high percentage of its value at 3 years and 36,000 miles, which makes the Nissan Armada a great used buy! When seeking a safe, stylish and economical SUV, Scottsdale Nissan aficionados should head to Pinnacle Nissan, located at 7601 E Frank Lloyd Wright Blvd in Scottsdale, AZ
Nissan Armada service information for North Scottsdale
Nissan Armada lessees and owners in North Scottsdale have recognized that Pinnacle Nissan at 7601 E Frank Lloyd Wright Blvd in Scottsdale is the very best choice for Armada warranty work, regular maintenance, inspections and mechanical repairs. At Pinnacle Nissan, Certified Nissan Technicians trained in the very latest corrective and diagnostic techniques work for one thing - your complete satisfaction. Whether it's time for your Nissan to have an oil change, brake pad replacement, or simply undergo Armada Scheduled Maintenance, Pinnacle Nissan is your first choice. Our Certified Nissan Mechanics also complete specialty jobs and repairs. Pinnacle Nissan is the smartest choice in North Scottsdale for quick, amiable and professional Nissan Service of all kinds.
If you'd like to make an appointment to have your Armada serviced, click the link or just give us a call. We're looking forward to hearing from you!