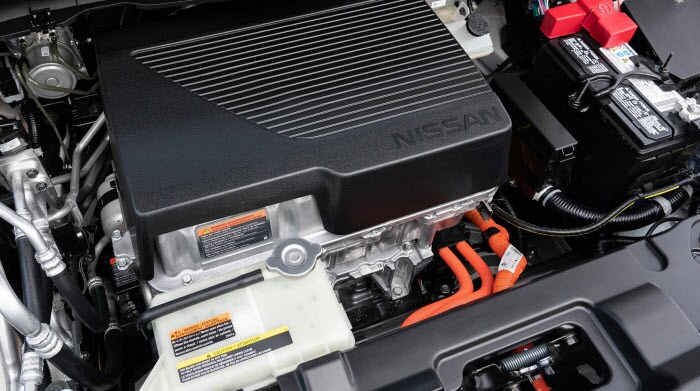 The new Nissan LEAF offers many improvements, including enhancements to gas efficiency, horsepower and, most importantly, the battery. Nissan's emission-free compact car has a 110 kW electric motor powered by a 40 kWh lithium-ion battery. The LEAF is an environmentally friendly vehicle that not only cuts down on emissions, but on your money spent as well. There is one important question customers tend to ask; how long can I expect my battery to last?
Nissan LEAF Battery Specs
The base LEAF model is equipped with a 40kWh lithium-ion battery capable of pushing out 147 horsepower, while the PLUS model uses a 62 kWh battery that can reach up to 214 horsepower.
One of the many convenient things about this battery is the charge time. Using one of many DC Quick Charging Stations located across the country, the LEAF can be charged to 80% in as little as 40 minutes, which provides for 8 hours, or 150 miles worth of driving. If you want to simply charge at home, you can get the same results in 8 hours of charging. Just leave it charging overnight and your LEAF is all set to take on the road.
How Many Years Will a Nissan LEAF Battery Last?
Every Nissan LEAF battery comes with a 96 month/100,000 mile (whichever occurs first) warranty. Despite the warranty only being for 96 months, the Nissan LEAF battery life expectancy is 10 years or more. This varies for everyone depending on your driving habits, how often it's charged, the weather, and other factors besides the battery itself. Treat your LEAF well and the battery could easily outlast the 10 year expectancy.
Nissan LEAF Battery Failure
It's important to define exactly what Nissan considers to be a "failed battery" under its terms of warranty. The LEAF's battery has officially failed when only one to four bars out of the 12 bar capacity are working in proper order. This is very important to note, as anything more than 4 working bars is still considered to be working under the terms of warranty, and will not be eligible to be replaced until it meets those terms.
There are other factors that can affect the battery and its ability to properly function as well. Hotter states like Texas, Arizona and California tend to take a greater toll on the lithium-ion battery, potentially causing them to die before the 10 year expectancy. Nissan has taken this into account and made improvements on their warranty terms. On the other hand, the battery tends to last longer in colder states, but may slightly loses range due to the limited mobility of the electrons in the battery caused by colder temperatures.
Nissan LEAF Battery Replacement Cost
Battery replacement cost can vary depending on the model year, but the price tends to be in the $6,000 range. This is all before maintenance costs. Pricing does fluctuate, so please contact us for an exact quote if you're looking for a new Nissan LEAF battery for sale in the Phoenix area.
To learn more about the LEAF, come visit our dealership and take a test drive! We would love to show you all of the features the Nissan LEAF has to offer.