Which New Tech Does The 2019 Altima Edition ONE Include?
Depending on your specific needs and personal preferences, there could be a wide variety of important factors that come into play when trying to find the best new car. For some people, it might be that power, performance and style are most important, while others may focus more on factors like safety and reliability. Still, if you're the type of person that's looking to take advantage of some truly ground-breaking in-car technology, then it's well worth your time to take a look at the brand-new Nissan Altima Edition ONE.
2019 Altima Edition ONE: Technology, Convenience and Style in one smart sedan
In terms of style, the Altima Edition ONE already outperforms all other Altima models thanks to special additions like illuminated kick plates, rear spoiler and dark-grey aluminum alloy wheels. However, the Edition ONE also has one other unique feature that is sure to truly leave you feeling spoiled, and that is the all-new Nissan Concierge service.
Available exclusively on the 2019 Altima Edition ONE, Nissan's new concierge service gives drivers 24/7 access to their own team of personal assistants who are standing by to handle almost any task you need. Simply access the concierge service through your vehicle's display to make travel arrangements, reservations and appointments or to find road and weather info, driving directions and so much more.
Booking event tickets, tee times and even getting reviews to find out what movie you should watch has never been easier thanks to Nissan Concierge, and best of all, you can do it all without having to take your eyes off the road. In fact, you can even contact your concierge by email, text message, phone call or using Amazon Alexa or Google Assistant voice commands.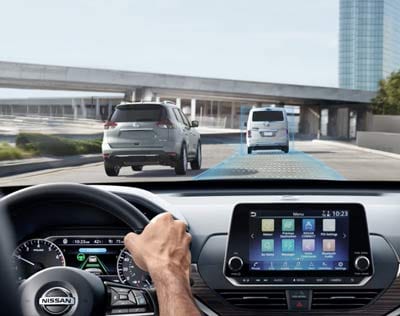 Nissan Intelligent Mobility: Keeping You Safer on the Road
As with most new Nissan vehicles, the Altima Edition ONE features a suite of Nissan Intelligent Mobility safety technology designed specifically with the security of you and your family in mind. Drivers have the advantage of intuitive features like Rear Cross Traffic Alert, Lane Departure Warning, Blind Spot Warning and Automatic Emergency Braking to help keep them aware and hopefully avoid potential hazards. Thanks to the Nissan Intelligent Mobility 360-degree safety shield, you can drive with the confidence of knowing you and your family are fully protected by the latest in state-of-the-art safety technology.
Nissan ProPILOT Assist: Taking the Hassle Out of Your Daily Commute
Another huge feature that sets the Altima Edition ONE apart from most other vehicles on the road is the inclusion of the highly impressive Nissan ProPILOT Assist technology. This intuitive driver-assist function can help to take some of the stress out of long road trips and your daily commute by handling some of the basic driving tasks for you. By taking advantage of Nissan's Steering Assist and Intelligent Cruise Control, the ProPILOT Assist system can help make sure your vehicle stays in the center of your lane and maintains the correct distance between you and vehicles in front of you. When engaged, the system can even slow your vehicle down or bring it to a full stop and then bring it back up to speed as needed, which enables you to tackle heavy traffic with ease.
Combined together, the range of technology available on the Altima Edition ONE definitely helps to push it towards the top of its class. Still, the only way to truly appreciate all this vehicle has to offer is to see it in person. Therefore, we'd like to invite you to stop by our Nissan dealership to learn more about this or any other new 2019 Nissan vehicle.