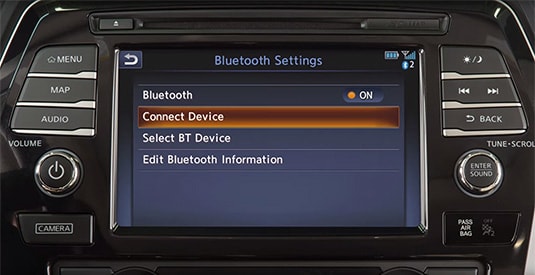 If you've recently purchased or leased a new Nissan car in the Phoenix area, then you're probably busy setting up all the cool technology that comes with these high-tech machines.
One of the most popular, and most used, pieces of tech on your car will be the Bluetooth system, which allows you to connect your phone to your car's infotainment system. If you've been wondering how to set up the Bluetooth in your Nissan, take a look below for a step-by-step guide.
Start by Setting up Your Phone
Go to Setting > Bluetooth > On
Set up Bluetooth Connection in Your Car
Vehicle with Navigation: Select "Phone" button on display screen. From there, follow Connect > Connect New Device.
Vehicle Without Navigation: Select "Enter/Setting" on display screen, then follow Bluetooth > Add Phone.
Pair Your Phone to Your Car
Select the following on your phone: Settings > Bluetooth > Scan for Devices > My-CAR
Finalize the Pairing
After completing the above step, check the passkey on both your phone and your car. If they both match, then accept the pairing request on your smartphone and then select the "Yes" button.
Congratulations, you're connected!
To see more how-to's and information regarding all the exciting features on our stock of new Nissan cars in Scottsdale, keep checking back to our blog.